Exclusive
Jeremy London's Estranged Wife Told To 'Stay Away' From Their Son By CPS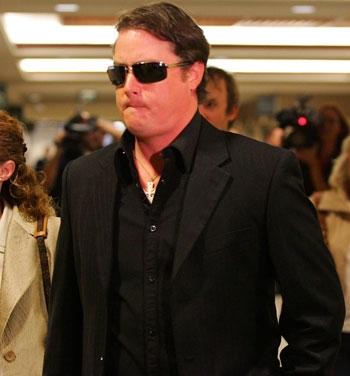 By Amber Goodhand - RadarOnline.com Reporter
Jeremy London's estranged wife accused him of violence during an argument over their son, and RadarOnline.com exclusively learned that Child Protective Services stepped in after the ordeal.
Jeremy has a four-year-old son, Lyrik, with Melissa Cunningham, but Melissa's mother has had full adoptive custody of the boy for more than a year.
"CPS got really concerned when they heard about the allegations of violence and all the drama surrounding the whole incident," an insider told RadarOnline.com.
Article continues below advertisement
"They showed up at the home where Lyrik is living and made it clear that Melissa had to go."
According to the source, Melissa hasn't been around up until about a month ago when she moved back in with her mother.
"It's unclear how long Melissa was planning on staying, but CPS gave the ultimatum that she had to go or Lyrik would be removed," the source said.
As RadarOnline.com was first to report, the Palm Springs Police Department wanted to chat with Jeremy about a mid-November incident in which Melissa said the two got into an argument over the custody of Lyrik, and Jeremy turned violent.
However, RadarOnline.com later discovered that Melissa had provoked the alleged incident to "create drama" for a reality-TV show she was trying to get on.
"Melissa has been recently contacted by a reality show wanting her to appear as a 'celebrity ex-wife,'" a source said.
"She left messages with several of her friends and family members last week saying that the show wanted her to create conflict and drama between herself and Jeremy, and specifically they wanted her to create a scenario that makes Jeremy look bad."
Article continues below advertisement
Jeremy's rep also denied the allegations that he touched Melissa.
"This is a false allegation and we understand that the police have to follow protocol in issuing an arrest warrant -- standard when any woman files a complaint of domestic abuse. However, no such abuse occurred and these allegations will soon be proven false," Jeremy's rep, Dominic Frisen said.
RadarOnline.com has learned the Palm Springs Police Department has turned over the case to the District Attorney who will decide whether or not they will proceed with charges.