Exclusive
Heidi Klum Says 'I Have A Wild Life'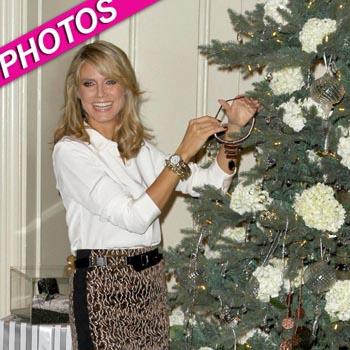 By Alexis Tereszcuk - Radar Senior Reporter
Heidi Klum has it all!
The stunning supermodel dished to RadarOnline.com about her charmed life, saying that she doesn't have a boring one, that's for sure.
"I feel like I have a wild life," Klum said at the showcase of her jewelry line on Monday in Beverly Hills. "I don't have a boring life, it's quite wild. Some days are wilder than other days, I feel like I have a wild and exciting life."
Article continues below advertisement
Why wild? It's the name of her jewelry line Wildlife and it fits her to a T.
"The name... I was on the plane and I was coming from overseas and I was thinking about names and I couldn't come up with anything and I was reading the form when you come into the country, fruit, wildlife and it really popped out from that page. And then I thought it is also a double word, it is like having a wild life."
Married to sexy singer, Seal, the mother of four adorable children, a TV host, supermodel and rocking a killer body, Heidi's new line, available at QVC.com, is her Saturday morning project.
"Every Saturday morning I do it at 7:30 a.m. The kids are up but it is before we do karate and ballet, I design for 2 1/2 hours every week. I go into my office and have all my things around," she said while wearing her gorgeous new pieces, all of which are priced from $43 to $200.
"I'm really proud of the jewelry," Heidi said. "I always design for myself. When you have jewelry that is not real it should be fun."