Harry Potter Star Rupert Grint Bids Goodbye To Ron Weasley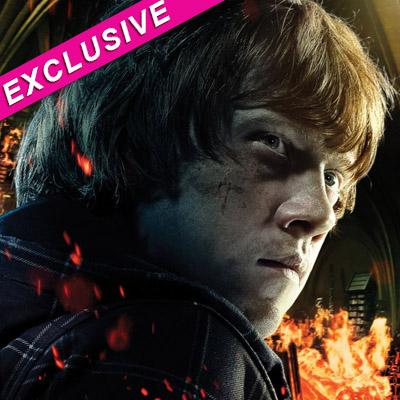 It's the end of an era for Harry Potter fans but for Rupert Grint it's even tougher to move on after starring in the blockbuster series since he was 13-years-old, RadarOnline.com can reveal.
"It's hard to put it into words as it's saying goodbye to my childhood really," said the actor, who was catapulted to fame as Harry's best friend, Ron Weasley in 2001.
"I haven't seen a Harry Potter movie all the way through for a long time, I just catch glimpses on TV. It's very surreal seeing yourself as a child."
Article continues below advertisement
Grint got to return to Hogwarts for a partial cast reunion on Saturday when the stars gathered at the Wizarding World of Harry Potter at Universal Studios Orlando to celebrate the DVD launch of the final installment, Harry Potter And The Deathly Hollows Part 2.
"I'm going to miss so much, I think it's the people really. That family unit, we saw each other every day and then suddenly you don't see them," Grint told RadarOnline.com in an exclusive interview.
"Finishing the movie was tough, these last few years have been hard to adjust to that. But I'm also excited to be doing new films and the next chapter of my career."
One of Rupert's happiest memories was when he, Daniel Radcliffe and Emma Watson first transformed into J.K. Rowling's beloved magical school children.
"I remember the first day on the set was just incredible as I had no idea what to expect or how film is made or how big this was going to be," he said. "Stepping onto the great hall for the first time was amazing."
Article continues below advertisement
Being back in Hogsmeade, even with the cobbled English streets swapped for a theme park in Florida, Rupert felt like he had a home coming.
"It is very surreal here, I love coming here because they've really captured it. This is very familiar scenery for us.  It's quite homely," he explained.
"The first time I came here was a few days after we finished filming and I was quite emotional."
The series that made him a heartthrob among millions of tweens across the globe may be over, but the 23-year-old Brit took a few things from the set as a reminder.
"I've got the deluminator, which is a little light thing that Dumbledore left Ron in his will. I've  also got the number four from Privet Drive, Harry's door number -- that was hard to get off because I had to use a piece of gravel to unscrew it!" Grint told RadarOnline.com.
Now that he's hung his wand and robe up for good, the actor who will always be known as Ron wishes he could take one more thing with him -- a spell to make him fly, "either on a broomstick or a flying car."