Warwick Davis: 'I'm Proud To Be Part Of Harry Potter'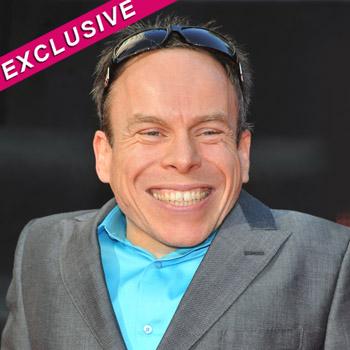 As the final Harry Potter installment was released on DVD on Friday, the cast of the series looked back on the past ten years of magic, mystery and Muggles, and RadarOnline.com can exclusively reveal how one star feels about the end of an era.
"I don't think I'm sad, I have a sense of accomplishment and achievement and pride that we've made these films and there's eight movies out there now for generations to come," Warwick Davis, who plays pint-sized Professor Filius Flitwick told RadarOnline.com in an exclusive interview.
Article continues below advertisement
We caught up with Davis at the Harry Potter and the Deathly Hollows Part 2 press junket at the Wizarding World Of Harry Potter at the Universal Orlando resort.
"To some people, Harry Potter is what they've grown up with, and when you come to the Wizarding World you realize what an impact you've had on their lives," he explained.
"We were very lucky as actors to be part of that. It's a huge responsibility but at the same time it's very nice.
"Nothing delights me more to see someone in a wizard robe and a wand, but it's a bit weird in Florida when it's 85 degrees," he laughed.
Despite starring in some of the biggest fantasy series in Hollywood's history, including Star Wars, Leprechaun and The Chronicles of Narnia, the British actor still gets goose bumps playing pivotal scenes.
"I was lucky enough to be there when Voldemort declares that Harry Potter is dead, that's a historical moment. It's a Forest Gump moment. I stood and watched the spectacle," said Davis, who also played the Goblin Griphook in the final film.
Article continues below advertisement
Harry Potter Stars Cast A Spell On New York
While the 41-year-old has decades of experience in show business, Daniel Radcliffe (Harry), Rupert Grint (Ron) and Emma Watson (Hermione )were just kids when they were cast as the film's main characters, and he's impressed with how well they've handled it.
"They haven't changed, they could easily be affected by it but they've handled it so well. They've grown up in a whirlwind of celebrity but they are still the people they when we started," he said.
Now that the series is over and Warwick has hung up his cloak and wand for good, RadarOnline.com asked what spell he wishes he could take away with him to the real world.
"Wingardium Leviosa is my favorite spell, not just because it was mine in the first movie but also because it is useful," he revealed.
"To be able to levitate when you are 3'6" like I am is very handy to reach a cash dispensing machine or a counter in a shop, to reach the hangars in the wardrobe," he laughed.