Eva Longoria Cuddles Victoria Beckham's Baby Harper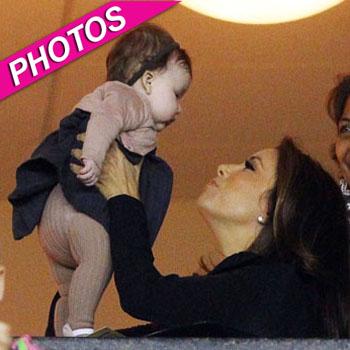 Senior Radar Reporter
Adorable Alert!
Eva Longoria cuddled with Victoria Beckham's baby daughter Harper at her dad's soccer game Thursday night and RadarOnline.com has the super cute photos of the girls together.
With the little bundle of joy in her arms, Eva was all smiles as she held Harper, who was wearing a stylish pink cardigan and matching tights over a grey dress with a cute black bow in her hair.
Article continues below advertisement
Looking striking with long wavy hair, mom Victoria sat in front of a glass of red wine as she watched husband David on the field, as her close friend Eva played with her little daughter.
Eva hardly let go of the little girl during the entire game, laughing and holding Harper high above her head and showing her what was going on in the game.
On the field, David Beckham's Los Angeles Galaxy soccer team beat the New York Red Bulls 2-1.