Gabby Giffords Serves Thanksgiving Dinner To Troops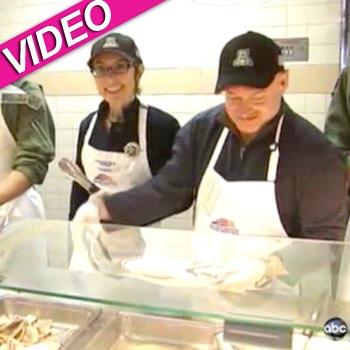 Congresswoman Gabrielle Giffords took a day off from her rehabilitation therapy to help serve Thanksgiving dinner to service members and retirees at a base in her hometown of Tucson.
Giffords and her former astronaut husband Mark Kelly dished out hundreds of meals at the Davis-Monthan Air Force Base Thursday.
She wore a baseball cap and an apron with her nickname of "Gabby" sewn on the front.
Article continues below advertisement
Giffords used only her left hand as she served. Her right side is still impaired because of the brain injury she suffered when she was shot in the head in January. But nothing could get in the way of her enthusiasm for the event, and she never stopped smiling.
"She's such an inspiration and her story is so inspirational, it really made me proud, Airman 1st Class Millie Gray told AP. "I felt very proud and very humble."