Congresswoman Gabrielle Giffords Says Arnold Schwarzenegger Was 'Messin' Around'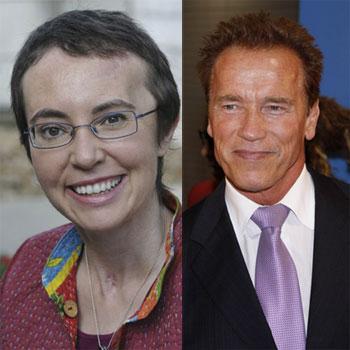 As part of Gabrielle Giffords' therapy for the severe brain injury she suffered when she was shot, the Congresswoman was shown photographs of famous people and asked their names and what she knew about them.
Her response when shown a picture of Arnold Schwarzenegger was a doozy!
"Messin' around.  Babies!" she said with amazing accuracy.
The story comes from the new book, 'Gabby,' by Giffords' astronaut husband Mark Kelly, with the final chapter by Gabby herself.
Article continues below advertisement
Giffords was shot in January and Schwarzenegger went public in May about having fathered a love child by his family's housekeeper.
By the time of the photo therapy session, Giffords' rehab had already included watching some newscasts so she had become aware of Arnold's scandal.
The book also reveals that Giffords and Kelly were trying for a baby when she was shot, and her response when asked if she knew what had happened to her was "Shot. Shocked. Scary."