Howie D Next In Line For Britney Spears Lap Dance As He Joins Tour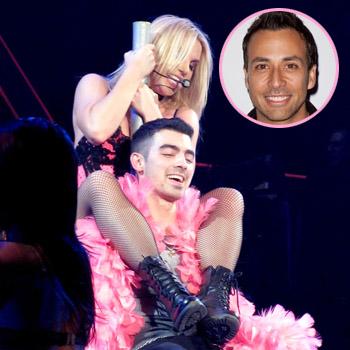 Britney Spears has been dishing out lap dances like candy on Halloween recently and now Howie D might be in for a treat.
The Backstreet Boy is set to join Brit's Femme Fatale Tour on the South American leg so he can expect the same saucy treatment as her most recent opening act, Joe Jonas, who got the dance - and shock - of his life on Monday.
Wearing fishnets and a bustier, Brit gave her shy tourmate an eyeful during her concert in London when she tied Jonas to a pole and writhed all over him during the scandalous routine.
Article continues below advertisement
And although the naughty pop star has known Howie since they were kids, that probably won't stop her giving him the same sexy on-stage performance.
Howie told MTV News that he was excited to hit the road with the Oops I Did It Again singer. "I embraced it with open arms," Howie said.
So far Brit Brit has also given the sexy pole dance to her boyfriend Jason Trawick, plus Lance Bass, Pauly D and some other lucky male fans. Must be a perk of the tour!