Bikini Re-Offenders! The Biggest Style Sinners On The Beach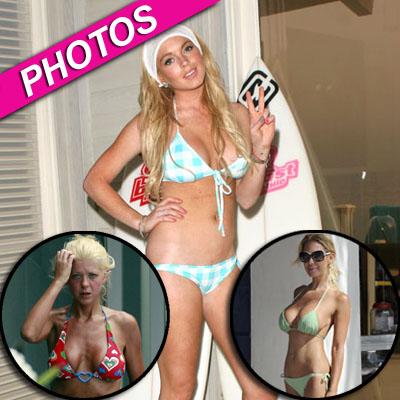 Radar Style & Beauty Editor
It's bad enough when a star commits a style sin on the shoreline, but it's even worse when they make the same stripped-down mistake twice!
Saggy bottoms, tacky g-strings and stripper heels are just a few of the bikini blunders that Hollywood's hottest stars have experienced on the shoreline. RadarOnline.com has photos of all the bikini re-offenders in this special, stripped-down feature.
Article continues below advertisement
Oh, Coco! Ice-T's buxom blonde wife can't stay away from those scandalously sexy g-string bikini bottoms. The reality show star loves shocking the fellow beachgoers by stripping down and showing off her larger-than-life assets in barely-legal bottoms.
Bikini bad girl Lindsay Lohan is known to sport some tacky swimwear accessories – but does it get any worse than a SCRAM bracelet?
Reese Witherspoon is one of the highest paid actresses in the world, but all that money can't seem to motivate her to purchase bikini bottoms that fit. Reese has fallen victim to the saggy bikini bottom blunder more than once.
And why save stripper heels for the stage, when you can rock them on the beach? Lorenzo Lamas' ex-wife Shauna Sand is famous for strutting her stuff in lucite platforms and skimpy swimsuits.
For all the biggest bikini re-offenders in Hollywood, click here.