Exclusive
Beekman Boys 'Shocked And Saddened' Over Kim Kardashian's Divorce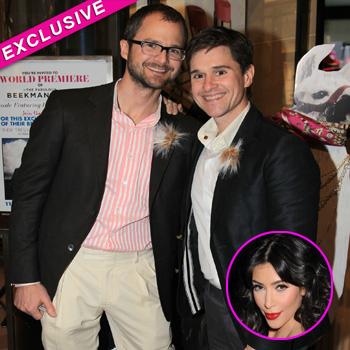 Fabulous Beekman Boys, Josh Kilmer-Purcell and Dr. Brent Ridge are huge fans and even friends of Kim Kardashian's, so when they heard the news of her divorce they were both stunned and saddened.
Josh and Brent recently gave Kim a copy of their new book, The Beekman 1802 Cookbook as a wedding present and they jokingly told RadarOnline.com: "We hate to hear of any relationship falling apart, but hope that each of them is doing what they think is best for themselves and for each other. We just hope that there's not a long, drawn out custody battle over that autographed copy of the Heirloom Cookbook."
Article continues below advertisement
The boys recently celebrated the launch of the popular cookbook with a lavish party at Christofle in Manhattan. Wearing custom made Stewart/Stand boots, Josh and Brent had every reason to celebrate as their cookbook is flying off the shelves and celebrities are raving about their recipes.
Josh and Brent are touring the country and you can find out where they will be near you by going to their website.