Cardinals Manager Tony La Russa Retires Following World Series Win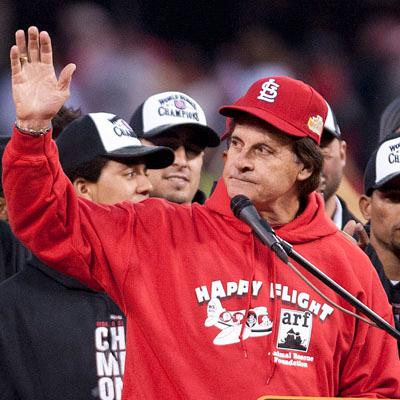 Just three days after leading the St. Louis Cardinals to the World Series championship, legendary manager Tony La Russa announced his retirement from managing in a news conference in St. Louis on Monday.
"It's just time to do something else, and I knew it," the 67-year-old skipper said. "If we won, if we lost, it wasn't going to change.
"I feel good that this is the right decision and there's something out there."
Article continues below advertisement
La Russa's Redbirds won this year's World Series in seven games; they pulled off a miraculous comeback against the Texas Rangers in Game 6 Thursday to force Friday's Game 7, which they won 6-2.
La Russa spent 33 seasons managing for the White Sox, A's and Cardinals, winning six pennants and three championships (the A's in 1989; the Cardinals in 2006 and 2011) in that time.
RELATED STORIES: