Andy Rooney: 'This Is A Moment I've Dreaded'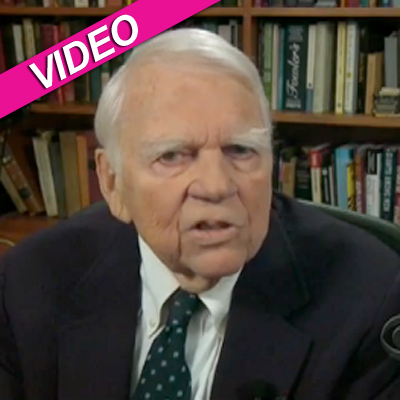 Broadcasting legend Andy Rooney delivered an emotional editorial on 60 Minutes Sunday, marking his final regular appearance after 33 years on the CBS stalwart.
"This is a moment I've dreaded," the 92-year-old newsman said in his 1097th essay. "I wish I could do this forever, but I can't, though ... but I'm not retiring. Writers don't retire, and I'll always be a writer."
Rooney admitted he probably hadn't "said anything here that you didn't already know or have already thought ... that's what a writer does.
Article continues below advertisement
"A writer's job is to tell the truth," Rooney said. "I know I've been terribly wrong sometimes, but I think I've been right more than I've been wrong."
Rooney -- who began his regular on-air role with 60 Minutes in July 1978 -- admitted one aspect of his regular 60 Minutes spot he didn't care for was the fame.
"I spent my first 50 years trying to become well known as a writer, and the next 30 trying to avoid being famous," he said. "I walk down the street now or go to a football game and people shout, 'Hey, Andy!' And I hate that.