Exclusive
Sister Wives' Husband Kody Brown Says 'Jealousy Creeps In'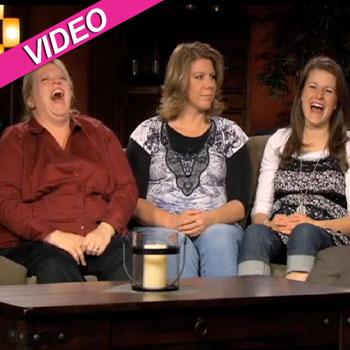 By Alexis Tereszcuk - RadarOnline.com Senior Reporter
Juggling four wives is no easy feat and polygamist Kody Brown is learning that life can get pretty difficult when his wives are envious of each other.
"Jealousy creeps in when one wife says in her mind 'he loves her more than me,'" Kody says in the exclusive sneak peek of the upcoming eispode of Sister Wives obtained by RadarOnline.com.
Since moving to Nevada the plural marriage family is split up with each wife and her children in their own house and Kody finds balancing all of their feelings difficult.
Article continues below advertisement
"The problem is they're going to wonder sometimes whether or not you love somebody more than them so that's a huge burden because you have to prove yourself so it makes it a little bit more of a challenge."
Wife #2 Janelle admits that she sometimes becomes jealous of her fellow wives.
"I allow my mind to play tricks on me when Kody's away as to what kind of really great fun things he's doing with the rest of the family that I'm being left out of."
However, she stresses that jealous has no place in their lives.
"You just can't compare because that is death. You cannot compare yourself or your situation or your relationship with any of your sister wives because when you compare you will never ever be happy."
In a surprise revelation, fourth wife Robyn is going to reveal the sex of the new baby on Sisters Wives when it airs Sunday at 9 p.m. on TLC.