Motley Crue Sued For The Fourth Time Over Belt Buckle Photo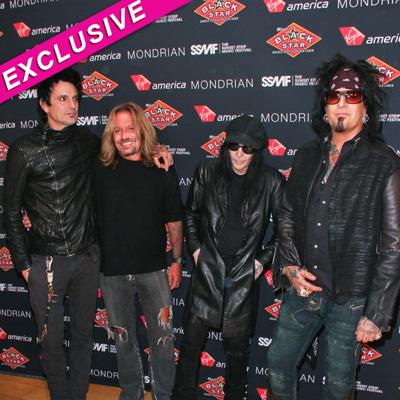 The man who owns the copyright to an iconic picture that Motley Crue used on their debut album cover, Too Fast For Love, is suing the band for infringement, and RadarOnline.com has the exclusive lawsuit documents.
The plaintiff, Ron Toma, is fighting the legendary hair metal band over the picture that photographer Michael Pinter took in 1981, which famously depicts a close-up of a studded belt buckle and a crotch in tight leather pants.
Article continues below advertisement
Read The Court Documents Here
Toma obtained the rights to the pictures "through written assignments," and he is now suing Motley Crue Inc., for "injunctive relief and damages relating to the defendants' copyright infringement of Toma's intellectual property," according to the papers filed in the Illinois Northern District Court.
This is the fourth time that Toma has sued the band in the past four years.
The latest filing was made on September 26 in light of the photo being used for the band's 2011 30th Anniversary Tour, when a giant reincarnation was displayed behind the band as they performed on stage.
Along with the crotch shot that has since been used on tour merchandise including hooded sweatshirts, Toma also owns the copyright to early photos of the original band members including Tommy Lee, Nikki Sixx, Vince Neil and Mick Mars in all their glory with long hair, heavy eye-liner and lots of leather.