'Bridesmaids' Star Melissa McCarthy Before She Was Famous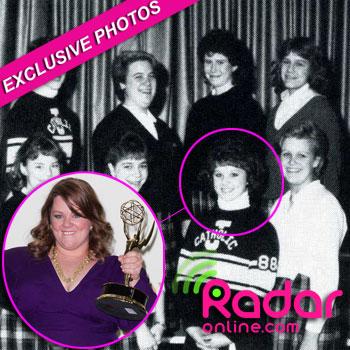 Bridesmaids star Melissa McCarthy was a huge success hosting SNL over the weekend, and now RadarOnline.com has exclusive details of the the hilarious plus-sized comedian before she was famous.
The funny girl from Plainfield, Illinois, attended the St. Francis Academy (now called Joliet Catholic Academy) in nearby Joliet, where she was a favorite among the teachers who remember her fondly.
Article continues below advertisement
"She was a preppy kid during her first couple of years here then she got into the theater scene and got more artsy," Sister Barbara Kwiatkowski, who was the Dean of Students at St. Francis Academy when Melissa was at the school told RadarOnline.com on Wednesday.
"She was a late bloomer. She was an ordinary kid in high school but was always very funny and had a quick wit and a great sense of humor," explained the sister, who is now campus minister at the Catholic school.
As a smiling high school student, the bubbly brunette in the photos (that were taken between 1986 and 1988) looks like a typical high school student, posing with her classmates in a school sweater. In another photo, she can be seen painting a friend's face in drama class.
While McCarthy didn't stand out to teachers as the girl in class who was destined to be famous, "She was very sociable and the life of the party with the kids she hung out with."
Article continues below advertisement
Melissa, whose cousin is former Playboy model and actress Jenny McCarthy, is as famous for her size as her TV roles, such as Mike and Molly, which makes her perfect for the part of Overeaters Anonymous member Molly, but she was never overweight in school revealed her teacher.
"She was a lot slimmer in high school and quite sporty, she played tennis for a few years and was on the cheerleading squad," remembers Sister Kwiatkowski. "She never struggled with her weight in his school."
Despite only being between a size 4 and 6, and no one else in school thinking she was overweight, Emmy-winner McCarthy admits that she often worried about it.
"All through high school I was in a panic over my weight. I didn't look like the girls who looked like eighth-grade boys. I was tiny and petite – but I thought I was fat. Hollywood's obsession with thin is such a wrong message to send," she told the Sioux City Journal.
Article continues below advertisement
When she was 22, an agent told McCarthy, "You're never going to work at that weight." Now 41 and starring in her own sitcom, the actress said she would love to call her and say, 'Oh yeah?' But you get weird comments and I've gotten really lucky.
"Hollywood makes people crazy about their weight," the TV star explained.
Now her plus-size figure has won her the most coveted TV role of her career and won her a loyal fan following, despite her never showing an interest in pursuing acting as a career when she was teen.
"She was looking into going into clothing design when she was in school, I never thought she'd go on and be a famous actress or comedian," Kwiatkowski told RadarOnline.com.
RELATED STORIES:
Melissa McCarthy Kills It Hosting SNL
Amy Poehler: Steve Carell Was 'Totally Robbed' At Emmys
Melissa McCarthy's Magic Moment Steals The 63rd Emmy Awards