Hiding Something Maggie? Gyllenhaal Sports Suspicious Bump Under Grecian Gown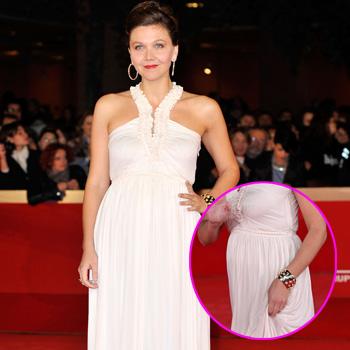 Is Jake Gyllenhaal going to be an uncle for the second time?
The Hollywood hunk's big sister, Maggie Gyllenhaal, hit the Rome Film Festival premiere of her latest movie Hysteria on Friday, showing off what
appeared to be a little baby bump underneath her Grecian gown – and RadarOnline.com has the photos.
Beaming from ear to ear, the 33-year-old, who already has a daughter, Ramona, with husband Peter Sarsgaard, donned an Alexander McQueen halter gown on the red carpet – but the pleated, Grecian style gown failed to conceal what looked to be a tiny baby bump.
Article continues below advertisement
Earlier last week at a photocall for Hysteria, the actress sported a rather large and shapeless shift dress, which hid her midsection completely.
As RadarOnline.com previously reported, Hysteria is set in the Victorian era and is about the invention of the sex toy – and Maggie revealed that she was bombarded with the pleasurable devices during shooting, so now she lends the unwanted ones to her chums to enjoy!
She said: "By the time I finished the movie I'd been sent maybe 15 vibrators by different people in London with vibrator stores. It was a pleasant surprise.
"So I have this incredible collection, and I actually use like one or two of them. I lend them to my friends, and they'll take them for six months at a time."
Maggie says she was drawn to Hysteria because she was keen to see how the vibrator was invented as well as being interested in "female sexuality".
Article continues below advertisement
Speaking at a press conference, she said: "I decided to do it because I was also interested in female sexuality, although that makes it so scientific. I don't know many people who aren't interested in female sexuality.
"I was curious about the invention of the vibrator. It's unusual when you read a romantic comedy where you're curious about what's going to happen. Basically I'm always looking for freedom, for a way to be free in my work."