Jake Gyllenhaal Vs. The Wild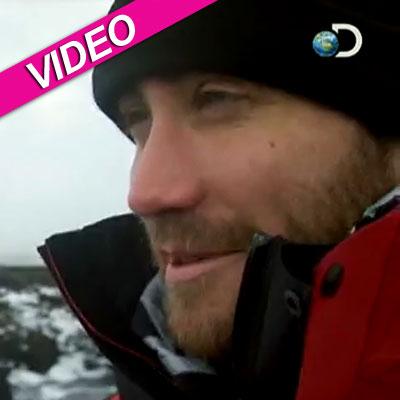 By Amber Goodhand - RadarOnline.com Reporter
Jake Gyllenhaal isn't just a pretty face.
The Brokeback Mountain actor risked his life recently when he went trekking with Man vs. Wild's Bear Grylls, and RadarOnline.com has a sneak peek for you.
Gyllenhaal braved Iceland's rugged mountains, volcanoes and glaciers to traverse across an extremely deep ravine during a snowstorm, all for a special episode entilted Men vs. Wild.
Article continues below advertisement
"This is one of those moments. Face your fear," the 30-year-old heartthrob said with a noticeably nervous voice before sliding across the rope.
Jake follows in the footsteps of fellow actor Will Ferrell who starred in a hilarious episode of the hit show where he was taught by a patient Bear how to rappel down a cliff, skin and eat a reindeer, and live for 48 hours in the frigid far north of Sweden.
To find out if Gyllenhaal makes it safely across the ravine, tune in to the Discovery Channel on Monday, July 11 at 9 p.m. EST/PT.
MORE ON:
Discovery Channel