Has Jake Gyllenhaal Moved On From Taylor Swift? Spotted Getting Cozy With Camilla Belle!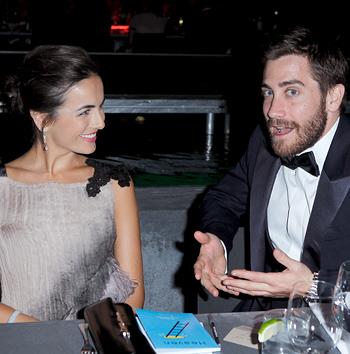 Jake Gyllenhaal and stunning Camilla Belle were inseparable Saturday night at the Art of Elysium "Heaven" Gala, and only RadarOnline.com has the exclusive scoop!
"They hung out together the entire night," an eyewitness tells us. "They were talking intimately, and laughing. There really seemed to be chemistry, a connection."
Art of Elysium is one of Hollywood's favorite charities. It takes the arts -- including creative writing, acting, photography and painting -- to children battling life-threatening illnesses in hospitals and rehab centers. The celebs themselves are often the volunteers who instruct the kids and perform with them, giving them a break from their medical challenges. The organization's annual fund-raising black tie ball has become a must for beautiful young Hollywood.
Article continues below advertisement
It was the perfect place for Jake, a longtime Art of Elysium supporter to find someone new.
He and Camilla already had something in common. She previously dated Joe Jonas, also an ex of Jake's previous honey, Taylor Swift!
"Jake and Camilla were flirting all night," our source says. "And before he left, I saw him very affectionately touching her arm.
"She is definitely his type."
We'll keep an eye on this one!
Other big hearted celebs at the event included Eva Mendes, James Franco, Rachel Bilson, Gerard Butler and Nicole Richie.
And it seems that all that do-gooding made Richie work up quite an appetite!
An eyewitness tells RadarOnline.com that the teeny star made a beeline for Fatburger, who were providing catering for the night, and the super-slim 29-year-old certainly wasn't calorie counting!
"Nicole spotted Fatburger and rushed straight over," the source says. "She said that she definitely didn't want the veggie burger that they were offering – she wanted the all meat beef burger!
"And when she got it she scoffed it straight down – for someone so tiny, she sure can eat!"
The star-studded gala included an amazing Vogue fashion runway show with hair styled by top crimper to the stars, Angus Mitchell.
RELATED STORIES:
Jake Gyllenhaal & Taylor Swift Split
Jake Gyllenhaal & Taylor Swift Photographed Together
Jake Gyllenhaal Makes Fittest Men List