Exclusive
LeAnn Rimes: 'I Love My Body'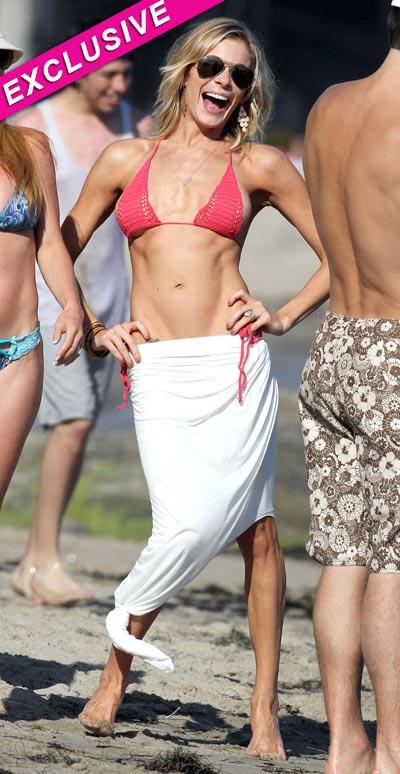 Senior RadarOnline.com Reporter
LeAnn Rimes has everything she wants in life and wants the world to know!
The gorgeous 29-year-old singer/actress is firing back at critics who say that she is too skinny.
"I understand the public is used to seeing me with baby fat, but you have to understand that I'm not a baby anymore," she exclusively told Star magazine. Rimes shot to fame at the young age of 13 when she released her country music smash hit Blue.
Article continues below advertisement
"Everyone has seen my every 5-or-10-lb. weight loss or gain since I was 13. Now I've grown into a woman, and my body has just naturally changed."
Now happily married to Eddie Cibrian, LeAnn said her split from Dean Sheremet was incredibly difficult.
"When I went through a divorce and didn't want to get out of bed for almost a year and a half, I gained 10 lbs," but she bounced back from her tough times and slimmed down, revealing a super-trim body when she arrived at SiriusXM studios in New York City on Sept. 12.
LeAnn insists her personal life is thriving, and so is her rocking bod. "I'm the happiest I've been. I'm healthy and taking great care of my body again."
LeAnn says her slim frame is the result of a strict new workout regime that has made her body "longer, leaner and less bulky."
So what does she do to get her killer body?
LeAnn exercises three or four times a week doing Pilates, dancing or circuit training with light weights. "I also love boxing to get rid of stress and tone my entire body," LeAnn told Star. "But lately, I mainly work out when I can. Mostly that's consisted of walking miles through airports and performing high energy 90-minute shows every night while on tour!"
Article continues below advertisement
She's currently on tour promoting her new album Lady & Gentlemen and says she stays fit on the road by having celebrity nutritionist Kimberly Snyder send her healthy meals.
"I start off my day with one of Kimberly's smoothies, and then I'm mostly vegetarian until dinner, when I eat fish, chicken or steak with salad and veggies," she says.
While LeAnn strives for perfection with her figure, she admits that she is already planning for when she's eating for two. "My body will continually change with stress, contentment or whether I'm busy or not. Hopefully also one day when I'm pregnant!"