Twilight Trio To Be Immortalized In Concrete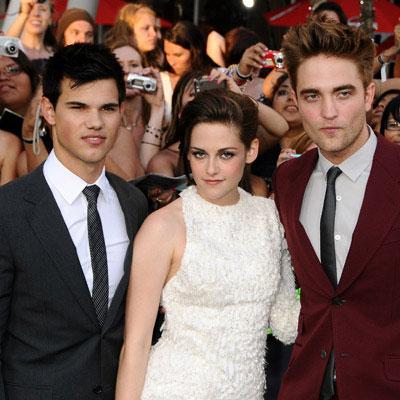 Kristen Stewart, Robert Pattinson and Taylor Lautner's hand and footprints are about to be immortalized in concrete, RadarOnline.com is reporting.
The Twilight Saga trio -- who play Bella Swan, Edward Cullen and Jacob Black in the vampire romance franchise -- will take part in a prestigious handprint ceremony at Hollywood's Grauman's Chinese Theatre on November 3.
Cementing their places in cinematic history, the co-stars are three of just a few hundred actors in the history of film who have been bestowed with the honor.
Article continues below advertisement
With the likes of Johnny Depp, the late Marilyn Monroe and Bob Hope all immortalized in concrete on the pavement of the Hollywood hotspot, Kristen, Robert and Taylor will all take part in a triple ceremony where they will cast their hand and footprints in cement.
Jennifer Aniston and Dame Helen Mirren are some of the most recent stars to have received the honor.
At the time, the 65-year-old British star said she was filled with "pride", which she named as one of her three most triumphant life moments.
Helen said: "I've always loved the history of Hollywood. It is with incredible pride that I'm here to become a part of that history.
"There have been three real moments of triumph in my life. The first was being made a Dame of the British Empire of which I am enormously proud, second was winning an Oscar and the third was having my hands and feet outside Grauman's Chinese Theatre.
"I am a Dame of the British Empire but now I'm very proud to say I'm one of the many Dames on Hollywood Boulevard."