Taylor Lautner And Lily Collins Split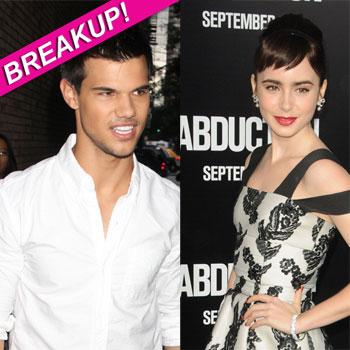 Ladies, there's a hunky new werewolf on the prowl!
Heartthrob Taylor Lautner is back on the market after breaking up with his girlfriend, Lily Collins, just one week before the premiere of their new movie, Abduction, on September 15.
A source tells US Weekly:"It was a clean break that Taylor initiated," going on to explain that the timing made for a decidedly difficult premiere party.
"At the Abduction party, it was awkward," the source admits. "They barely said a word to one another."
Article continues below advertisement
Although the couple kept their romance low key, and never actually confirmed they were dating, Taylor, 19, only had good things to say about his former co-star.
"You can feel some sort of chemistry or a connection when you are reading a script with someone for the first time," he told Seventeen magazine, adding, "And that was totally the case with Lily."
Taylor's not going to have much time to enjoy the single life though -- the actor is set to start promoting the fourth Twilight installment, Breaking Dawn: Part 1, in November.