Dolled Up Kristen Stewart Dishes On Twilight Wedding In W Magazine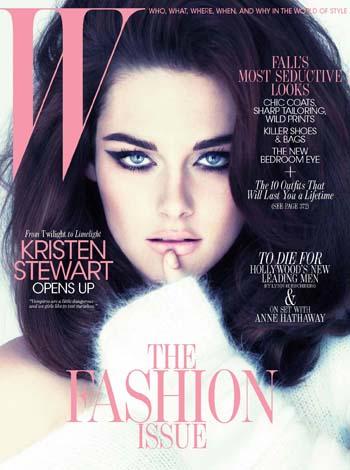 Best known as the pale-skinned vampire-temptress Bella Swan, Kristen Stewart underwent a transformation as dramatic as any Twilight character for W magazine.
The normally shy actress embraced the Hollywood bombshell makeover on the cover of the upcoming September issue of the glossy magazine, and RadarOnline.com has a sneek peek of her sex kitten style.
With a teased 60s style bouffant, pale lips and a heavily-lined cat eyes, Stewart's delightfully demure look is a dramatic difference to her innocent image in the block-buster series.
Article continues below advertisement
Inside, the 21-year-old Twilight Saga: Breaking Dawn star talks about the thrill of filming wedding scenes with real-life boyfriend Robert Pattinson.
"This was my first wedding. It was insane. And odd," Stewart tells W.
"The wedding dress experience was a huge deal. I tried on one version of the dress, and it was like tweak and tweak and alter and tweak and change, and then it's done."
Sadly, just like millions of fans, Stewart now has to say goodbye to Bella after playing the part for three years.
"I'd been anticipating that end-of-Bella moment. I was going, Oh, my God—I wonder how I'm going to feel.
And the last scene of the shoot was at the wedding. Every single character was there on set. At the end of that day, I was kind of whacked," she explains.
"Instead, it happened later. We needed to film one more sort of honeymoon scene and we went to the Virgin Islands. After that scene, my true final scene, I felt like I could shoot up into the night sky and every pore of my body would shoot light. I felt lighter than I've ever felt in my life," says Stewart in the in-depth interview.
Article continues below advertisement