Bikinis! The 10 Sexiest Stars Of Romance Movies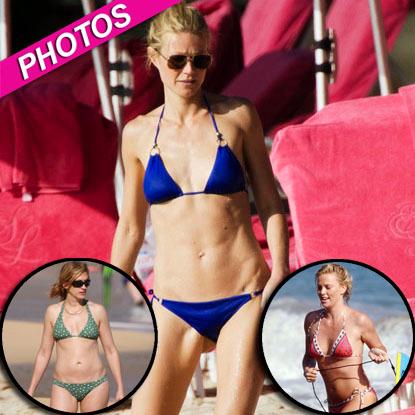 By Leah Ornstein - RadarOnline.com Style & Beauty Editor
The new film Crazy, Stupid, Love which stars Julianne Moore, Steve Carrell, Emma Stone and Ryan Gosling, is expected to be one of the summer's most romantic movies.
In honor of its release on Friday, RadarOnline.com is bringing you the 10 sexiest stars from the love movie hall of fame -- stripped down and showing off their hot bodies in bikinis!
Hollywood hard body Cameron Diaz has starred in a slew of romantic movies, and she almost always gets her man! Some of her most notable titles include The Holiday, My Best Friend's Wedding and There's Something About Mary.
Article continues below advertisement
Claire Danes was the envy of every teenage girl when she starred opposite Leonardo DiCaprio in Baz Luhrmann's 1996 movie Romeo + Juliet, but she wasn't Leo's only leading love movie lady! The hunk also played kissy-face with Kate Winslet in one of the highest grossing romance movies of all times: Titanic.
Gwyneth Paltrow scored an Oscar for Shakespeare In Love, while Charlize Theron had the audience sobbing starring alongside Keanu Reeves in the tear-jerker Sweet November.