Exclusive
Hilary Swank Paid To Attend Event With Chechen Leader Accused Of Torture & Murder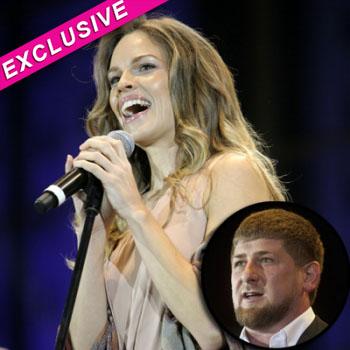 Senior RadarOnline.com Reporter
Hilary Swank made a huge amount of money from her recently criticized attendance at an event also attended by the brutal leader of Chechnya - RadarOnline.com has exclusively learned!
After receiving flak for her appearance, the two-time Academy Award winning actress apologized for attending the event with Ramzan Kadyrov, the Chechen leader who is accused of murder, torture and abductions by human rights groups.
Article continues below advertisement
The 37-year-old actress attended the opening of a residential and commercial complex in Grozny City on October 5, and according to her rep she decided to attend the opening "because the construction project was described to her as a symbol of hope for the people of Chechnya, a region that had been devastated by war. Specifically, she was advised that the project was instrumental in the creation of jobs and other opportunities for the people of Chechnya."
"I deeply regret attending this event, which has thrown into question my long and deeply-held commitment to the protection of human rights," Swank said in a statement to RadarOnline.com. "I would never intentionally do anything that raised doubts about such commitment. I will continue to donate my time and my financial resources not only to the charities with which I am currently affiliated, but also those dedicated to the preservation of human rights."
Article continues below advertisement
Once Swank arrived at the event she was asked to wish Kadyrov a happy birthday and "not wanting to be rude, she obliged."
She says that she was unaware of the allegations made by human rights groups about the Chechen president's alleged atrocities, and no mention was made of the payment from the organization.
The Human Rights Foundation said they sent Swank a letter in September detailing Kadyrov's past crimes trying to dissuade her from attending the event, but never received a response.