Ladies Who Lunch For A Cause! Variety's Power Of Women Event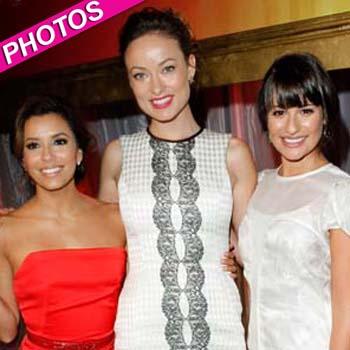 Article continues below advertisement
Tears were shed as each of the wondrous women, who were all wearing divine designer duds, got up on the stage to talk about their charitable efforts.
Olivia Wilde, who showed off her hot bod in a Jason Wu sheath, talked about her travels in Haiti and how she has helped in building schools improving the devastated island community with Artists for Peace and Justice.
Lea Michele, wearing a shimmering Katharine Kidd dress, discussed her involvement with PETA, and her personal quest to rid New York City of horse-drawn carriages for the unethical treatment of the animals.
Eva Longoria, looking divine in a red Salvatore Ferragamo cocktail dress, talked about how her intellectually challenged older sister inspired her to found her charity Eva's Heroes, which helps teens and young adults with special needs get the skills they need to flourish in society,
Mary J. Blige, looking stunning in a skintight red dress, brought the crowd to tears as she talked about personal experiences of being a battered woman, and how that helped her get the strength to found her charity FFAWN, which helps empower women to reach their full potential.
Article continues below advertisement
Annette Bening, wearing a sophisticated suit, shared her passion about The Actor's Fund, an organization that helps all entertainment professionals get the help they need in hard times.
Stacey Snider, Co-Chairman and CEO of DreamWorks Studios, talked about her passion for City Year, an organization that pairs together tutors, mentors and role models with students in need, usually in low income communities, in order to ensure their graduation.
And last but not least, Lisa Williams, who was L'Oreal Paris' Women of Worth winner in 2010, passionately shared about her experiences with teenage sex
trafficking and the impact of her Living Water for Girls home, which provides a safe refuge for victims.
RadarOnline.com encourages you to learn more about these charities, by clicking on the links below.
Artists for Peace and Justice