Super Skinny Gerard Butler May Be Shedding Muscle, But Girls Are Still Swooning!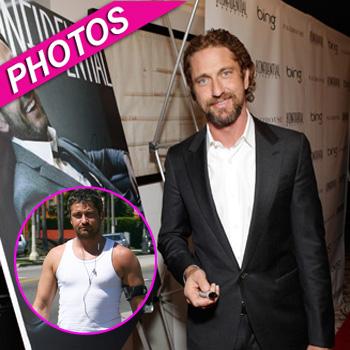 Gerard, is that you?
300 star Gerard Butler, who is featured on the cover of Los Angeles Confidential magazine's Men's Issue, celebrated the release of the issue over the weekend at a bash in his honor, looking slimmer than ever – and RadarOnline.com has photos from the event as well as excusive details.
The Hollywood hunk, who has admitted to slimming down for his upcoming film Mavericks, where he plays a surfer, couldn't hide his much leaner legs with his tailored suit – and couldn't stop talking about the role!
Article continues below advertisement
Butler stayed away from all the snacks at the swanky soiree that took place at West Hollywood hotspot Pallihouse, instead chugging on SmartWater through the night.
"Girls were swooning, trust me," a source told RadarOnline.com about the Hollywood Bachelor.
What do you think about Gerard Butler's slimmed-down look? Leave comments below.
RELATED STORIES: