Gene Simmons And Shannon Tweed Are Married!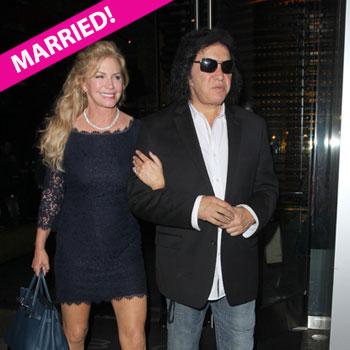 Gene Simmons and Shannon Tweed have tied the knot in a lavish Beverly Hills ceremony.
The wacky KISS rocker and his girlfriend of 28 years, Shannon Tweed, finally said "I do" Saturday night in front of friends and family at the Beverly Hills Hotel.
The happy couple - who have their own reality show Gene Simmons Family Jewels - had some help from their children when it came to planning their big day.
Article continues below advertisement
Nick, 22, and Sophie, 18, sent out a comical invite to the fancy affair.
"After 28 years of loose strings, our parents have finally decided to tie the knot," it read.
"Our mother will share our horrendous hyphenate of a last name and our father's life....well it doesn't change that much."
Shannon wore a gown by Priscilla of Boston. Daughter Sophie was her maid of honor. Sophie also sang the classic Etta James' song At Last for her parents first dance as a married couple. Among the 400 guests were Hugh Hefner, Bill Maher and Gene's KISS bandmate Paul Stanley.
Gene proposed on the season finale of his reality show which begins again on October 4 on A&E.
Gene and Shannon have asked their wedding guests to forget the gifts and make donations to some of their favorite charities including the SPCA and The Elizabeth Glaser Pediatric AIDS Foundation.
Gene Simmons Breaks Down At Father's Grave In Israel
And why now, after all those years of dating? "It is time for me to grow up," Simmons explained.