Hugh Hefner Is Invited To Gene Simmons Wedding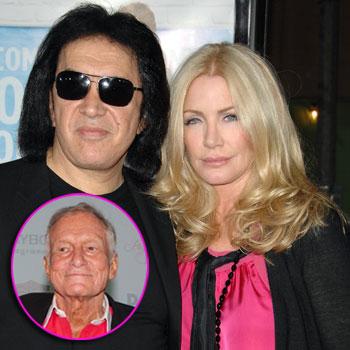 Although it's unlikely to reach the dizzying heights of Petra Ecclestone or Kim Kardashian's multi-million dollar nuptials, KISS rocker Gene Simmon's upcoming wedding to his fiancée Shannon Tweed, is shaping-up to be a star studded event.
Hugh Hefner is the latest celebrity to score an invite to the October 1 ceremony, RadarOnline.com can report.
And, Hugh is very excited for the couple, who have been in a relationship for 28 years, because Gene and the former Playboy Playmate met at his home.
Article continues below advertisement
Hugh wrote on Twitter: "I received a wedding invitation from PMOY Shannon Tweed & rock star Gene Simmons today. They met at the Mansion."
Gene and Shannon – who appear together in the reality TV show Gene Simmons: Family Jewels - announced their wedding date this week and will be tying the knot at the Beverley Hills Hotel on Sunset Boulevard, California.
The invitations the couple sent out contain a picture created by their son Nick, 22, and a message written by their 19-year-old daughter Sophie.