Exclusive
Dr. Phil's Son Jay McGraw Accused Of Humiliating Guest On TV Show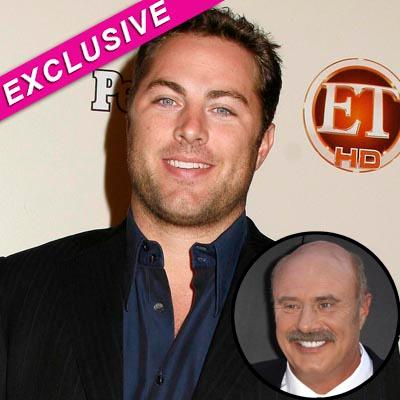 Dr. Phill's son, Jay McGraw, has been accused of destroying a man's life after tricking him onto his show to exploit a condition that left him with a disfigured penis, Star magazine has exclusively learned.
In 2010, Tyler Bowling, 24, took Jay's production company, Stage 29, to court accusing the company of working with a cosmetic surgeon to bully him into appearing on the show The Doctors and strong arming him to reveal his embarrassing condition to a studio audience and thousands of viewers.
Article continues below advertisement
Tyler claims after years of suffering from the condition Pearly Penile Papules -- which the court papers describe as "not dangerous (but) unsightly and emotionally destabilizing," he reached out to cosmetic surgeon Dr. William Groff for laser treatment.
Dr. Groff's office offered the $4,500 treatment for free, if Tyler agreed to discuss his embarrassing condition on his TV show which he claims he was informed was something only watched by medical students -- this is despite the CBS show being watched by two million people!
According to the court papers, obtained by Star, that were filed against Jay's company, within moments of booking an appointment a producer from Stage 29 called a still undecided Tyler, which he claims is a violation of his doctor patient confidentiality rights.
When Tyler finally agreed to be part of the surgeon's program, he claims he was flown out to Los Angeles where he was shocked to find himself on the set of the live-audience show The Doctors.
Article continues below advertisement
Instead of discussing possible side effects with his patient, Dr. Groff gave Tyler a suit and sent him to a dressing room, the court documents allege -- going on to claim that when the mortified young man tried to back out, a producer was dispatched to cajole him into signing waivers by assuring him no one would see the popular show.
"Based on this newly disclosed information, plaintiff immediately voiced his reservations and second thoughts about appearing, (the producer) proceeded to cajole, assuage and persuade plaintiff that appearing was no 'big deal' and that no one would see the episode and that plaintiff's appearance would be anonymous," the complaint says.
As soon as the forms were signed, the lawsuit alleges that Tyler was sat next to the 200-strong audience and, much to his shock, a "fake letter" implying that he wrote in to be on the show that included his name and hometown was flashed up on the screen.
The video - which can still be viewed on YouTube - shows a clearly mortified Tyler uncomfortably answering the panel of doctors' questions as pictures of the condition were shown on a screen.
Article continues below advertisement
According to the court documents that were filed before Los Angeles Superior Court in March 2010, as embarrassing as appearing in front of a studio audience was, Tyler's embarrassment only got worse when he returned home.
"Plaintiff has suffered humiliation, emotional distress and strain on his marriage from such an extreme, nefarious and outrageous conduct perpetrated by the defendants," the court documents read. "The actions of the defendants...has held the plaintiff out to ridicule, scorn and contempt from the plaintiff's co-workers, family and for potential employers."
According to the documents Tyler's pain was further compounded by the surgery that performed the operation using the clip to advertise the procedure online, the laser manufactures releasing a media release and the show being replayed -- despite Tyler claiming that he refused to sign documents allowing them to do so.
However, despite the horror of having his friends and the rest of America know about his highly private problem, Tyler's case seeking damages for invasion of privacy, fraud, negligent misrepresentation and emotional distress was dismissed.
Article continues below advertisement