Exclusive
EXCLUSIVE PHOTO: Dr. Phil's New Multi-Million Dollar Beverly Hills Mansion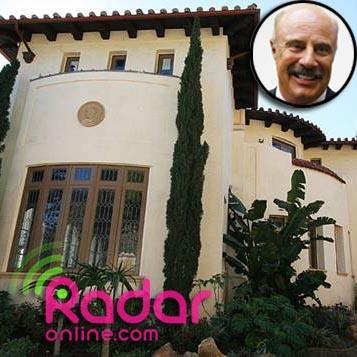 The man known for saying "Let's do it" is taking action himself - by moving into a new Beverly Hills mansion - and RadarOnline.com has an exclusive photo.
Dr. Phil McGraw has purchased "a French Mediterranean style home that he and his wife Robin have been admiring for years," a source close to the situation tells RadarOnline.com exclusively.
The mansion includes a detached one-bedroom guesthouse and a pool.
Article continues below advertisement
The new home for the tough-talking Texan is bigger than his current eight-bedroom home, which just went up for sale for $16.5 million dollars.
While the cost and location of the house are being kept private, our insider says, "It's fair to say the price is a bit more than his previous home."
Dr. Phil's old home was a favorite with celebrity tour buses, because he lived in a neighborhood that included Amazon billionaire Jeff Bezos and entertainment icon Mickey Rooney who lives in Shirley Temple's old Sunset Boulevard mansion.
The TV talk show host and his wife Robin wanted a bigger house to accommodate their expanding family.
Our source says, "And they wanted to be closer to their new granddaughter, Avery," who is the first child for son Jay McGraw, the executive producer of The Doctors.
Dr. Phil Selling Beverly Hills Mega Mansion
The McGraw's new home is located on the hillside and has beautiful views of Southern California.
"The family is very excited about moving into this home, as it will likely be their last move," says our source.