Dog Chapman Tells ET: I Wanted To Strangle My Grandson's Father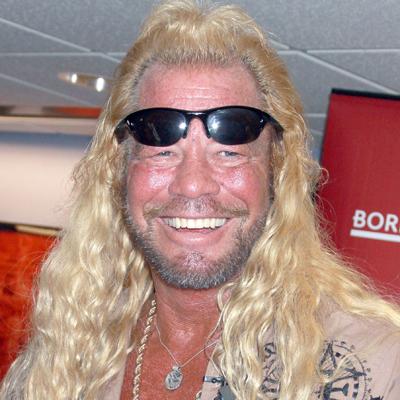 In the wake of Star's exclusive audio that helped gain Duane "Dog the Bounty Hunter" Chapman temporary custody of his grandson "Little" Travis, the TV star opens up to Thursday's edition of Entertainment Tonight about the child abuse accusations he's lobbed against the boy's father, "Big" Travis Mimms.
Travis, 9, is the son of the TV star's late daughter Barbara-Katie, who died in a car accident five years ago. Chapman, on Thursday, recalls the moments he heard the disturbing audio -- and how he was engulfed by anger soon thereafter.
Article continues below advertisement
Read Dog the Bounty Hunter's restraining and custody order papers here.
"I was in L.A. at Gene Simmons' wedding and I got the tape emailed to me," Chapman tells ET's Chris Jacobs. "It was overwhelming to me and I got mad -- I instantly thought, 'I can't wait to get my hands around Mimms' throat,' but then I am trained enough to know not to do that."
Chapman said the alleged abuse inflicted on the child actually worsened when school officials expressed concern to the boy's father about his well-being.
"The school had told Mimms, 'Your son is telling his friends he's getting beat!'" he said. "So because the teacher went to the parent -- the abuser -- and said, 'Hey there's rumors you're beating your kid' ... he went home and did exactly that."
Chapman admitted he kind of felt like he was on the job when pursing Mimms.
"I felt like there was a bounty on Mimms," he said. "But I thought, this is your grandson, there's no bounty. When I caught Mimms, I got the same feeling only this was my love, my grandson. I felt like, 'Wow, I got him.'"
MORE ON:
Dog The Bounty Hunter
Article continues below advertisement