David Beckham Inks His Love On His Hand; And Baby Harper Approves!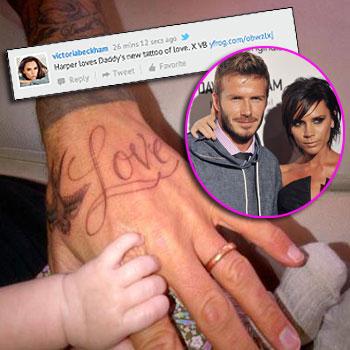 Some people are known to wear their heart on their sleeve, but when he comes to David Beckham, he just inks his emotions on his hand!
David's lucky wife, Victoria Beckham, tweeted a photo of her husband's new ink, displaying the soccer hunk's hand and the words 'love' freshly inscribed. And upping the adorable factor, little baby Harper's teeny tiny hand can be seen grasping onto daddy's finger!
Article continues below advertisement
Beckham is no stranger to tattoos, in fact, his gorgeous bod is pretty much covered!
The Brit has seven tats on his torso and back, including the names Brooklyn (in honor of his oldest son), Romeo (his second son) and Cruz (his youngest son); a large guardian angel with wide spread wings; a winged cross; Chinese characters telling about death, life, riches, and honor; and the Man of Sorrow depicting Jesus in prayer.
On his left arm, he has Victoria's name (misspelled!) in Hindi characters; a Latin inscription that translates to "so that I love and cherish;" a tattoo of a cherub and a ring of ten roses to honor his tenth marriage anniversary.
Then, on his right arm, Beckham has the Roman numbers of seven (baby Harper's middle name!); a cherub and a large angel; flames and the phrase: "Let them hate as long as they fear."