David Arquette Rumbas For Coco On Dancing With The Stars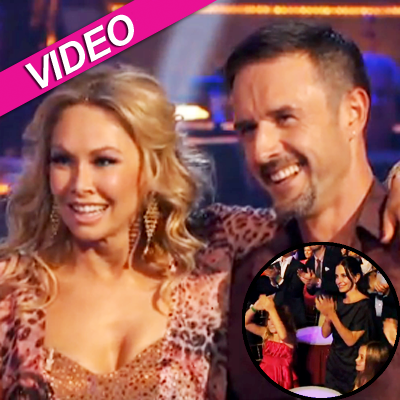 Radar Staff Writer
After a forgettable performance last week, David Arquette mounted a comeback as Dancing with the Stars' 13th continued Monday, racking up a respectable 24 points for his rumba set to the tune of Five Stairsteps' O-o-h Child.
The night's theme was for each contestant to dance to a year that changed their life, and the 40-year-old Scream star -- who's been through a separation, and a stint in rehab in the past 12 months -- picked the most recent one.
Article continues below advertisement
Results From Week Three Of Dancing With The Stars
Arquette said the past year "made me take a real hard look at myself so I can be there for my daughter -- I can see the world through her eyes in a different way."
Arquette then dedicated the dance to his daughter Coco, who was front-and-center cheering him on Monday with his estranged wife Courtney Cox and sister Rosanna Arquette.
"The voice in the song is me speaking to my daughter," he said of choosing O-o-h Child. "Life is about love and not giving into fear so to dance the dance of love is the perfect way to tell this story."
Following the solid number, Bruno Tonioli described Arquette's dance as an emotional carnival of "sensitivity" and "vulnerability" with a happy ending, "because in the end you're gonna get the girl! Wonderful!"
"Very nice comeback, I know last week was devastating," Carrie Ann Inaba told him. "What is so special, is that you have this raw emotion that is so honest.
"That is what dancing is all about -- bringing pure joy to people -- great job!"
Article continues below advertisement
Watch the video on RadarOnline.com
Fun fact: former WCW champ Arquette isn't the only Dancing with the Stars contestant who wrestled for Ted Turner's now-defunct pro wrestling promotion, as past contestants on the show include Chris Jericho and George Clooney's current gal pal, Stacy Keibler.
Dancing with the Stars returns on ABC at 8/7c Tuesday.