Exclusive
Dr. Conrad Murray May Testify In His Own Defense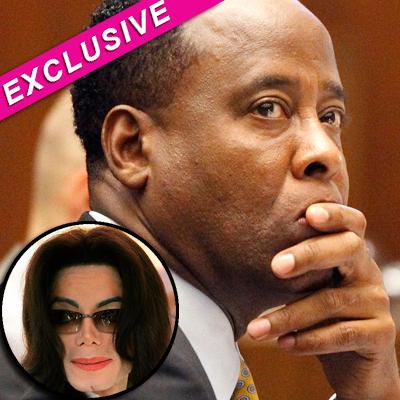 Dr. Conrad Murray's legal team is seriously considering having the cardiologist testify in his own defense as he's tried for involuntary manslaughter in the death of Michael Jackson.
Now RadarOnline.com is taking an exclusive look at the major obstacles to overcome before his lawyers make that potentially make-or-break determination.
On Friday, Deputy District Attorney David Walgren played the audiotaped interview that Dr. Murray did with cops, two days after Michael Jackson died. Jurors heard Dr. Murray admit to giving the former King of Pop Propofol.
Article continues below advertisement
"The fact that the jury has heard Dr. Murray admitting to giving the Propofol almost forces Dr. Murray to testify. His lawyers have been preparing him to take the stand. However there are significant problems. Dr. Murray can come across as very, very arrogant, and seems to be know-it-all. This could alienate the jury very quickly. If Murray hadn't given that interview to cops, his lawyers probably wouldn't be seriously considering putting him on the stand," a source close to the situation tells RadarOnline.com.
Court will be in recess on Monday, October 10, for the Columbus Day holiday, but the prosecution and defense won't be taking the day off. Dr. Murray will be grilled by his lawyers in case they decide to put him on the stand, the source says.
In making their decision, the defense is also evaluating how to handle what appear to be numerous inconsistencies in the physician's statements to cops and medical personal. Why didn't he tell the paramedics or the ER doctors that he had given Jackson Propofol? Why didn't he call 911 immediately after finding Jackson in distress?
Article continues below advertisement
The decision about having him testify is "a very fluid situation," the insider says.
The Jackson Family Arrive at Dr. Conrad Murray's Trial
Deputy District Attorney David Walgren "is preparing for Dr. Murray to take the stand. If Dr. Murray does take the stand, Walgren and Deputy District Attorney Deborah Brazil will be ready. Walgren has prepared a very methodical case, and would welcome the opportunity to cross-examine Dr. Murray," a law enforcement source states.
Dr. Murray's lead attorney, Ed Chernoff told jurors during opening statements that "the scientific evidence will show when Dr. Murray left the room Michael Jackson self administered a dose of Propofol that with the Lorazepam created a perfect storm in his body that killed him instantly. On June 25, for 10 hours Michael Jackson was frustrated because he could not sleep, frustrated that his doctor refused to give him a drug that he wanted. He did an act without his doctor's knowledge, without his doctor's permission, against his doctor's orders. He did an act that caused his own death."
Article continues below advertisement
As RadarOnline.com previously reported, Michael Jackson's fingerprints weren't found on ANY of the Propofol or Lorazepam bottles that were recovered from Michael Jackson's residence. Dr. Murray's fingerprints were found on a Propofol bottle.
Testimony will resume in Dr. Murray's trial on Tuesday, October 11. The District Attorney will finish playing the audiotape interview with Murray for the jury.
RELATED STORIES: