Brooke Mueller Goes Braless In See-Through Top At Halloween Party With Her Twins!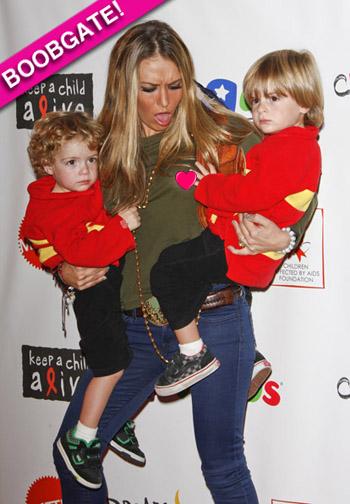 Brooke Mueller made a boob of herself at a Halloween party in Hollywood Saturday night.
Although she was there with her twin boys, Brooke went braless in a see-through top, and even struck the most revealing of poses, leaving next to nothing to the imagination as photographers snapped away.
Mueller seemed oblivious to her frightening fashion faux pas, even as she happily posed with two-year-old sons Bob and Max.
Article continues below advertisement
The ex-wife of Charlie Sheen was attending the 18th Annual Dream Halloween Event in Santa Monica when she put on her show stopping display.
Luckily for the crowd, Brooke, who has had numerous stints in drug rehab, covered up her lower half with a pair of skinny jeans.
The event was to benefit the Children Affected by AIDS Foundation and was sponsored by Mattel and Toys R Us.
RELATED STORIES:
Charlie Sheen & Denise Richards Reunite For Daughter's Soccer Game