Egyptian Baby Born With Two Mouths Survives Life-Saving Surgery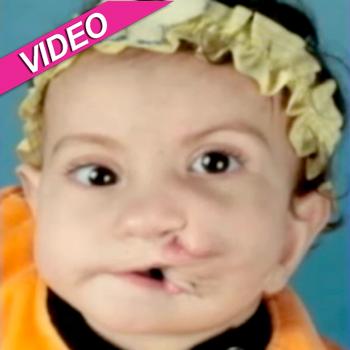 A baby girl who was born with two mouths and wasn't expected to survive infancy is doing well after receiving ground-breaking surgery to cure her rare condition, RadarOnline.com has learned.
Rokaya Mohamed traveled all the way from Egypt to California to be the first patient to undergo the unique surgical process from Dr. William Magee III at the Children's Hospital Los Angeles, reported KABC-TV.com.
Article continues below advertisement
The 15-month-old suffers from a rare condition that causes her to have two full mouths - both with an upper and lower jaw - that is a variation of a facial cleft.
Doctors in her homeland didn't expect the baby to survive past two months because she couldn't eat, but after being raised on a liquid diet she successfully beat the odds.
"The X-rays, the ultrasound didn't show us how her face is going to be," Rokaya's father, Tamer Mohamed, told KABC-TV, through an interpreter. "We are going to fight to change her life."
While her parents love her like she was a normal child, her father said she gets hateful stares and comments back home in Cairo that forces them to cover her face.
"We don't need that. We are going to fight to change her life," he explained.
When medical help wasn't available in Egypt, numerous charities stepped in to help bring the unusual case to the U.S. for treatment.
"We haven't seen this exact pattern before. So that's what makes it unique," said Dr. Magee, whose parents founded Operation Smile 30 years ago, a charity that aids children born with cleft lips and facial deformities who can't afford treatment.
Article continues below advertisement
Rokaya received her first surgery last Wednesday to peel away the soft tissues and fix the foundation of her face, and there will be many more surgeries in her future.
"We're very well-experienced in terms of bringing in children around the world for these surgeries," said Dr. Magee III. "We thought we could do an excellent job and get her home safely. She's done quite well, better than we anticipated."
He is now confident that an Egyptian team of doctors will be able to successfully take over Rokaya's medical needs.
Watch video of the amazing baby below: