French First Lady Carla Bruni Gives Birth To A Baby Girl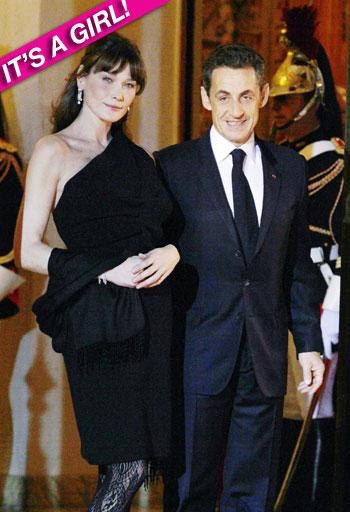 By Alexis Tereszcuk - RadarOnline.com Senior Reporter
Écouter!
The First Lady of France, the super stylish Carla Bruni, has given birth to a baby girl in Paris.
Bruni, 43, apparently gave birth at the exclusive La Muette Clinic with her husband, 56-year-old French President Nicolas Sarkozy, at her side.
However, he left Paris for a meeting with German Chancellor Angela Murkel shortly after the birth, to address the growing European financial crisis.
Article continues below advertisement
There has not been an official announcement from the Elysee Palace but French TV stations, including France 24, reported the birth.
President Nicolas Sarkozy, 56, spent half-an-hour with his 43-year-old wife shortly after she delivered their first child together.
But both insisted that the happy event should remain a 'private matter', with no official announcement from the Elysee Palace and Bruni has said in previous interviews that she hoped the baby would never even be photographed.
Last week Bruni expressed her desire to give birth quickly, saying: "Quite frankly, I can't stand it anymore. I spend most of my time either sitting down or lying down. I can't drink or smoke any more. I'm in a hurry to get it over with."
Bruni has a 10-year-old son, Aurelien, from a previous relationship with renown philosopher, Rafael Enthoven.
President Sarkozy has two sons, 26-year-old Pierre and Jean, 25, from his first marriage to Marie-Dominique Culioli, and a third, 14-year-old Louis, from his second marriage to Cecilia Ciganer-Albeniz.