Dude Looks A LOT Like A Lady! Andrej Pejic Is A True Gender Bender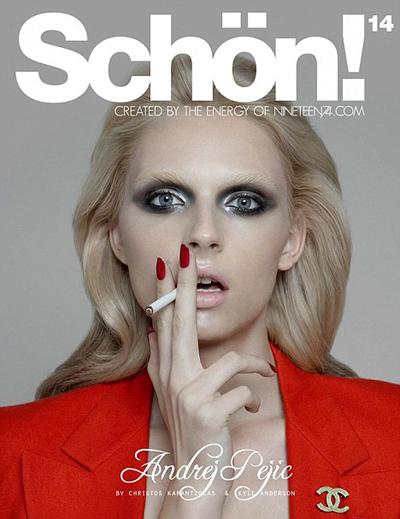 The new issue of German magazine Schon! features a gorgeous, blonde femme fatale, with smoky kohl-lined eyes, long fair hair and ruby red nails... she's gorgeous... except she is actually a he!
Andrej Pejic, the androgynous male model that likes to fuse the gender divide, is rapidly becoming a huge star in the modeling world, with Vogue magazine covers under his belt and catwalk assignments from some of the world's leading designers.
Article continues below advertisement
He's even caught the attention of supermodel Kate Moss, who simply whispered "you're beautiful" into his ear when passing at a Rio fashion show.
But not everybody approves of the model, who confesses to literally starving himself to maintain his girlish 25 inch waist. As RadarOnline.com previously reported, Dossier Journal has claimed that Barnes & Noble informed them that they were going to censor the cover of their magazine, which featured the shirtless model, because of the possibility that it could be interpreted as a young, naked female.
And, lads' mag, FHM magazine once described Andrej as a 'thing' rather than a 'he' when he landed 98th place on their list of the world's sexiest women.
Andrej is open when it comes to talking about the pressures in the industry to maintain his look, claiming: "To do women's wear I have to be disciplined. My waist has gone from 29 to 25 inches, my hips are 35 inches."
But don't ask about his sexuality; the 20-year-old has never talked about his orientation, or admitted to being gay or straight, nor has he ever identified himself as a woman. He has, however, been dressing up in women's clothes since his teens.
Article continues below advertisement
Former Model Acid Attack Victim Katie Piper Reveals Her Miraculous Recovery