100-Year-Old Marathon Runner Crosses The Finish Line Into The Record Books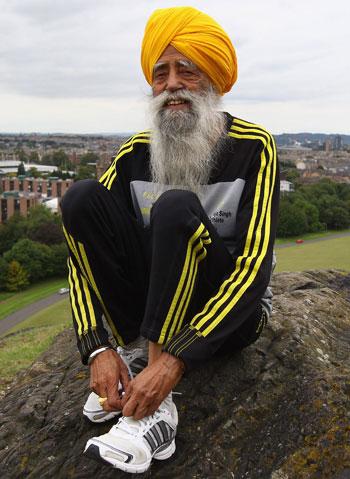 It's usually the winner of a race that makes the news, not the loser, but when 100-year-old Fauja Singh crossed the finish line in last position on Sunday he staggered into the record books as the oldest person to ever finish a marathon, RadarOnline.com has learned.
It took the centenarian eight hours to finish the Scotiabank Toronto Waterfront Marathon in Canada, making him the final runner to complete the 26.2 mile course and the oldest man in the world to run that far, reported CNN.com.
Article continues below advertisement
Nicknamed the Turbaned Tornado, Singh was born in rural India in 1911 and didn't even start running marathons until he was 89, when he moved to England following the death of his wife and son.
Despite his late start to the sport, the Indian runner, who color-coordinated a modern Adidas tracksuit and 'Sikhs in the City' t-shirt with his bright yellow traditional turban, has already completed eight marathons and set the 100-meter sprint record for a centenarian before tackling the race.
The Turbaned Tornado says the secret to his success is a life-long vegetarian diet of curry and tea, daily exercise and never smoking or drinking.
"I have said it before: that I will carry on running, as it is keeping me alive," Singh told the official Scotiabank Toronto Waterfront Marathon website.
He has no regrets finishing the race more than six hours after winner, 38-year-old Kenneth Mungara of Kenya, especially as he is 62 years his senior.
"He just enjoyed the run, the records are a bonus," said the new Guinness Book of World Records holder, through his translator and running coach, Harmander Singh.
RELATED STORIES:
Autopsy Scheduled For Late Indy 500 Champ Dan Wheldon
Kim Kardashian: Oklahoma City Has An NBA Team?
The St. Louis Squirrel Gets A Twitter Account & More!
David Letterman: 'I Always Wanted To Date Derek Jeter!'