Autopsy Scheduled For Late Indy 500 Champ Dan Wheldon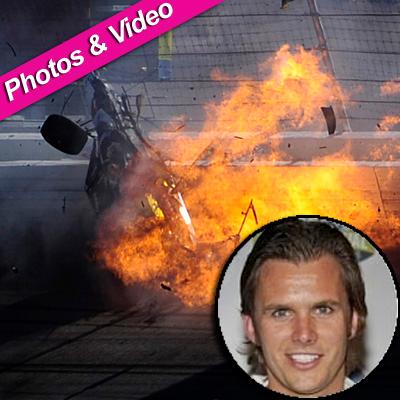 An autopsy is scheduled Monday for Dan Wheldon, the two-time Indianapolis 500 winner who died in a crash Sunday at 33, during a race at the Las Vegas Motor Speedway Sunday.
Wheldon was killed after his car, headed into a 15-car pileup, careened into mid-air and smashed into a catch fence and caught fire.
The English race car driver was airlifted to University Medical Center; IndyCar CEO Randy Bernard announced his death about two hours later.
Article continues below advertisement
"IndyCar is very sad to announce that Dan Wheldon has passed away from unsurvivable injuries," Bernard said. "Our thoughts and prayers are with his family today. IndyCar, its drivers and owners, have decided to end the race."
Racing superstar Danica Patrick described the carnage.
"It was like a movie scene which they try to make as gnarly as possible ... it was debris everywhere across the whole track," Patrick said. "You could smell the smoke. You could see the billowing smoke on the back straight from the car. There was a chunk of fire that we were driving around. You could see cars scattered."
Wade Cunningham, another driver caught in the pileup, said "things happen in this kind of racing ... it's so close.
"Not much room for error. I was near the front of what caused all this, so I'm not thrilled about it. At this point, whose fault it was is kind of immaterial."
Ashley Judd's husband Dario Franchitti, who was also driving in the race, described Wheldon as "such a good guy.
"I lost, we lost, a good friend. Everybody in the IndyCar series considered him a friend ... he was a charmer."
Three of the other drivers in the crash were also injured.