Victoria Beckham Takes Baby Harper To Her First Movie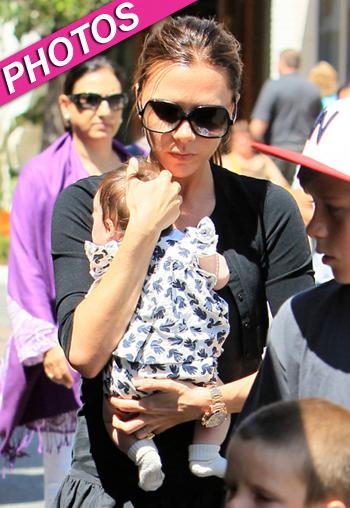 The world's most famous new mom, Victoria Beckham, took her baby daughter Harper Seven for an unusual outing Sunday morning. They went to the movies!
Victoria, 37, spent time strolling around The Grove shopping center in Los Angeles, carrying the beautiful seven-week-old and was accompanied by her three sons, Brooklyn, Romeo and Cruz, as well as a nanny and bodyguard.
Harper seemed quite content and alert in her doting mother's arms, already showing off a full head of dark hair - just like Victoria.
Article continues below advertisement
It was only when she was placed back in her stroller that she began to grumble a little.
David Beckham And Gordon Ramsay Take Their Kids Surfing In Malibu
Dressed in a short black strapless sun dress and a cardigan, surprisingly paired with flat black pumps, Mrs. David Beckham showed off her already back to size zero figure as the browsed the Mac store before heading into the theater after a stop at the concession stand for all the necessary munchies.
According to a staff member at the Pacific 18, there is no special rule banning people from taking their babies into the movie, as long as the baby isn't disruptive and interrupts the film for other viewers.
We're sure Harper was ell-behaved.
RELATED STORIES:
David & Victoria Beckham Name Their Daughter 'Harper Seven'