Venus Williams Explains Her Bout With Sjögren's Syndrome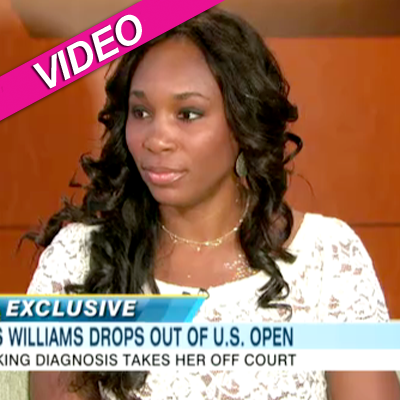 Venus Williams opened up about her bout with Sjögren's Syndrome on Thursday's edition of Good Morning America, less than a day after leaving the U.S. Open due to constant fatigue from the condition.
The tennis ace, 31, said the ailment -- which can take up to six years to diagnose -- left her with a number of symptoms leaving her struggling on and off the court.
Venus said she suffered from swollen hands, morphing joints, dry eyes, dry mouth, pain/numbness of the hands, among other symptoms.
Article continues below advertisement
Gavin DeGraw On Vicious Attack: 'I Don't Remember Much'
"As an athlete," she said, "everything's physical for me, everything's being fit and being in shape."
She said she knew something was really wrong when she found herself feeling like she "didn't have any energy" and "beat up" all the time.
The tennis wizard kept positive about her situation, saying "The best thing that could have happened for me this summer was to feel worse, so I could get better."
Watch the video on RadarOnline.com
Venus said it will take 3-6 months to begin recovering from the incurable disease, and that she feels positive about eventually being able to get back on the court.
She said the good news is that she knows what she's suffering from and how she can deal with it; and that, hopefully, her celebrity status will promote awareness of the disease.
We wish Venus our best in her battle.