Snooki's Jersey Girl To Jersey Glam Transformation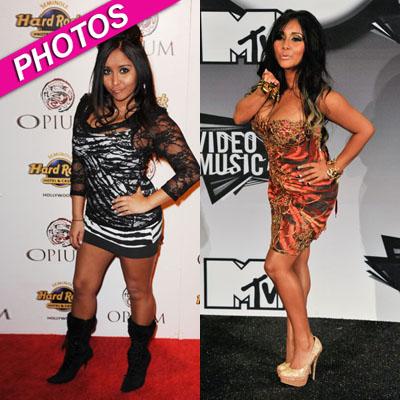 When Jersey Shore made its big debut on MTV in December 2009, Nicole 'Snooki' Polizzi, became an overnight celebrity.
With her feisty personality, vertically challenged 4 ft. 9 in. frame and her tacky boardwalk fashion, the Santiago, Chile native was an instant favorite on the controversial reality show, spawning skits on Saturday Night Live and even inspiring Halloween costumes around the nation.
Article continues below advertisement
But recently Snooki has cleaned-up her Jersey Girl look, morphing into a Hollywood glamazon, and RadarOnline.com has the photos of her transformation from tacky to terrific!
It was all about the GTL (gym, tan, laundry) when Snooks first hit the red carpet, sporting her trademark pouf atop her head. The star, who has admitted to suffering an eating disorder as a teen, proudly flaunted a fuller figure than her costars, often wearing skintight mini dresses on the red carpet and skimpy swimsuits on the beach.
But as the seasons passed, Snooki started to glam up her look and shed some weight -- revealing a new and improved look.
This year, Snooki revealed to Star Magazine that the secret to her weight loss success was Zantrex-3 Fat Burner and the aid of a personal trainer.
After several citations from the fashion police over the years, Snooki even scored 'best dressed' status from RadarOnline.com at the 2011 MTV Video Music Awards wearing a puffy painted Ama Savahi strapless mini dress.