Rosie Huntington-Whiteley and Ryan Reynolds Get Cozy In New Marks & Spencer Campaign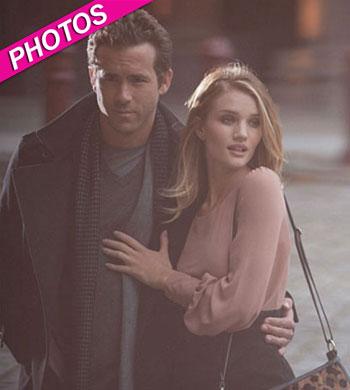 Rosie Huntington-Whiteley and Ryan Reynolds make a beautiful couple!
Fortunately though for Rosie's boyfriend, Jason Statham, (and Ryan's rumored squeeze Sandra Bullock) their romantic clinch is just for the cameras.
The perfectly-formed pair are the new faces of the Autograph brand in British department store Marks and Spencer's fall campaign.
The Transformers 3 star and the Green Hornet hunk join current M&S spokesmodels, Lisa Snowdon, soccer star Jamie Redknapp and sixties model Twiggy.
Article continues below advertisement
"Rosie and Ryan are the perfect fit for Autograph – beautiful, exclusive and absolutely contemporary," said Marks and Spencer executive director Steve Sharp, reported Socialite.com.
"On set, they worked together to deliver a mesmerizing performance which allowed us to capture shots that sizzle with excitement and an air of mystery."
Sharp went on to add: "We are very proud of the result – a set of truly stunning photographs that totally encapsulates the Autograph brand."
English beauty Huntington-Whiteley, 24, is far more experienced as a model than an actress, having posed in front of the cameras for Victoria's Secret and Burberry.
Ryan, 34, is best known for his string of hit films including The Proposal and X-Men Origins: Wolverine, but by the look of these brooding photos, he is a natural fashion model.
RELATED STORIES:
Apes Pulverize Ryan Reynolds And Jason Bateman At The Box Office