Ryan Reynolds And Scarlett Johansson Reportedly Reigniting Their Romance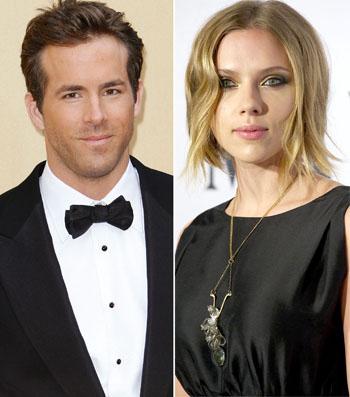 They've only been divorced for a month but rumors are rampant that Ryan Reynolds and Scarlett Johansson are rekindling their romance, RadarOnline.com has learned.
Despite having ended their two year marriage, the once happy couple can't keep away from each other, and have reportedly been in constant communication since enjoying an intimate dinner date on July 9 at their favorite restaurant, Little Dom's in L.A.'s Los Feliz neighborhood.
Article continues below advertisement
"She's been texting and calling him nonstop since the dinner," a source told Star magazine.
And while the pair have both been romantically linked to other people in recent weeks - Reynolds to Charlize Theron and Johansson to Justin Bartha - the real passion is between the divorced duo, according to sources.
Scarlett, Sean & Owen Go Jogging
In fact the normally tight lipped Reynolds, 34, recently opened up about his relationship with his ex-wife, and appeared to be tearing up while discussing it on The View.
After his The Change-Up co-star, Jason Bateman, praised him for his professionalism during the divorce, Reynolds choked up telling Barbara Walters: "I'm not going to cry around you, Barbara. Don't even. Don't even. Okay, here it comes."
The host then gave him a comforting hug.
Reynolds and Johansson managed to keep their relationship private during their time together, but OK magazine claims they split over the actresses' reluctance to start a family right away. "Scarlett said her career is her baby," a source told the publication. "But Ryan's a family guy."