Robert Pattinson Picks Up Some Bargain 'Vintage' Furniture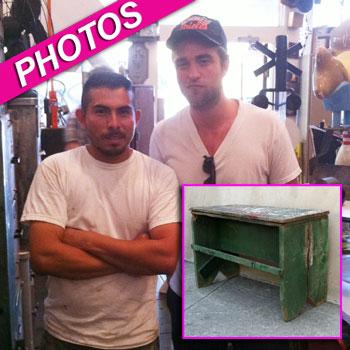 One man's junk is another man's vintage.
Robert Pattinson has mega-millions in the bank thanks to the success of the Twilight saga, but it seems that when it comes to furniture shopping the thrifty Brit errs on the side of...... cheap.
Despite being able to shop at all the top end designer stores in swanky Beverly Hills, Pattinson chose a decidedly more budget-friendly option, stopping by vintage furniture store, This Is Not Ikea, on Wednesday.
Article continues below advertisement
An eyewitness says Pattinson spent almost two hours browsing the wares before snapping up a "vintage distressed" green bench for a bargain $60, a vintage industrial grey desk lamp, $85, an industrial pipe floor lamp, $385 and a black, something we are not sure what.
The actor was said to be very friendly and down to earth and even took time to pose with fans and the store owner before heading off to carry on his day.