R.E.M. Announces Split After 31 Years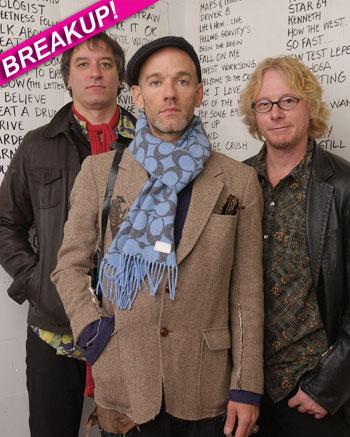 It's the end of the world as they know it!
After 31 years of topping the charts with such hits as Losing My Religion, Everybody Hurts and The One I Love, American band R.E.M. announced on Wednesday via their blog that they have called it quits.
"We have decided to call it a day as a band. We walk away with a great sense of gratitude, of finality, and of astonishment at all we have accomplished."
Article continues below advertisement
Founded in 1980 in Athens, Georgia by Michael Stipe, Peter Buck, Mike Mills and Bill Berry (who left the band in 1997) the liberal and politically active band released 15 albums during their three decades together and was inducted into the Rock and Roll Hall of Fame in 2007.
"A wise man once said--'the skill in attending a party is knowing when it's time to leave.' We built something extraordinary together. We did this thing. And now we're going to walk away from it," added the band's frontman Michael Stipe.