Lindsay Lohan Parties During Fashion Week After Defending Sister Ali's Catwalk-Thin Figure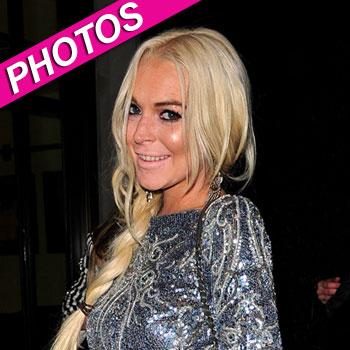 It was another night on the town for Lindsay Lohan Saturday as she hit the streets of New York to party at one of the city's hippest spots.
Dressed in a super-short silver mini dress, an orange spray tan and with her hair in a long Pocahontas-style braid, the troubled starlet looked like she'd had a darn good time as she left the Mark hotel in Manhattan.
All eyes have been on Lindsay's 17-year-old sister Ali's plummeting weight recently, but the older Lohan also appeared a bit thinner than usual herself last night.
Article continues below advertisement
The Mean Girls star has battled fluctuating weight issues over the years, most dramatically in 2005. She admitted to Vanity Fair the following year that she was shocked when she saw photos in Star magazine of her stick-thin frame. "My arms were disgusting. I had no arms. My sister, she was scared. My brother called me, crying," admitted Lohan at the time.
Earlier in the weekend, the 25-year-old LiLo took to Twitter to defend Ali against criticism over her own suddenly skinny figure.
"I love how haters pick on my sister yet every runway model is just as thin! My sister is gorgeous and I'm so proud of her and her career!!!!" tweeted Lindsay.
Ali, who just signed a contract with the famous agency NEXT Model Management, was photographed in Beverly Hills Tuesday and her thin frame caused a firestorm of controversy.
Lindsay is in the Big Apple for Fashion Week and caused a near riot at the Cynthia Rowley show on Friday night as a photographer rushed across the catwalk to take a photo of her in her teeny shorts and half-buttoned shirt.