Kim Delaney Gives Bizarre Speech And Is Escorted Off Stage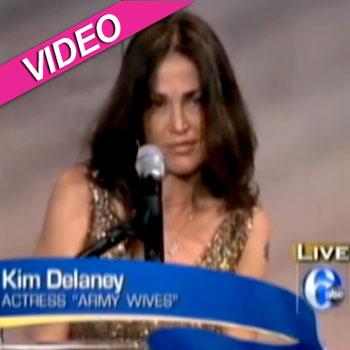 By Alexis Tereszcuk - RadarOnline.com Senior Reporter
What was she thinking?
Kim Delaney gave an incoherent, rambling and strange speech on Thursday night at Philadelphia's National Constitution Center at the Liberty Medal Award presentation and was eventually escorted off stage because of her bizarre behavior.
The Army Wives actress shocked the audience when she started off her speech saying she "served in an active military duty family for five years," going on to slur: "I've seen soldiers come home with painful life-altering injuries borne of their time and service," and: "I've attended numerous military funerals, including that of my best friend's son."
Article continues below advertisement
However, the Emmy Award winning actress was far into her speech before she revealed that those "details" were just part of the storyline for her character on the Lifetime show.
"It's all make believe. I have the luxury to do all of this on a television show."
According to the local ABC News affiliate, Delaney was escorted off the stage before she finished her speech, with the audience uncomfortably watching.
Delaney has long battled a public fight against addiction; she was arrested for DUI in 2002 and has reportedly been in rehab twice for alcohol problems.
Watch the video on RadarOnline.com below: