Exclusive
Kelly Rutherford: I Want Justin Bieber On Gossip Girl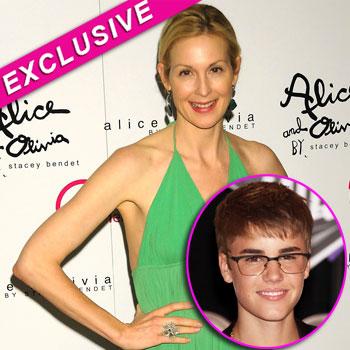 Somebody's got a spot of Bieber fever!
Kelly Rutherford has laid down an open invitation for Justin Bieber to appear on her hit television show Gossip Girl.
The actress, who plays the manipulative Lily van der Woodsen, has gone back to work on the New York set following her summer hiatus and says she would love to have the Baby singer as a guest star.
"It would be great to have Justin on the show, it would be so much fun, we'd love to have him," she told Star magazine.
Article continues below advertisement
"I think he should perform. I think if he performed on the show it would be great. But I'm sure he's a great actor too so obviously whatever he wanted!"
The busy mother-of-two is juggling her work on set and raising her children, son Hermes, five, and two-year-old daughter Helena with husband Daniel Giersch.
And to show what a "cool" mother she is, Kelly brought Hermes to the Dolce & Gabbana Fashion's Night Out Event in the Big Apple Thursday night so he could get his photo taken with Bieber who was also in attendance.
"I thought it would be a cool opportunity for him to meet Justin," Kelly shared, adding that the memento would be great when her son is old enough to appreciate it and she too was looking forward to meeting the pop star for the first time.
The 42-year-old also dished on the upcoming season and says there may be the pitter patter of tiny feet for one of the characters and she's hoping she soon gets her freedom.
Article continues below advertisement
"There's a pregnancy on the show," Kelly revealed and added: "Hopefully I'll be out of house arrest really quick and be able to shop again and run around the city."
Kelly said that she had a ball filming with British actress Elizabeth Hurley who is appearing on the show this season and called her "lovely".
Watch Kelly on the season premiere of Gossip Girl on The CW on September 26. XOXO!
RELATED STORIES: